Your benefits
Highest brand quality!
Fair pricing!
Reliable service!
Cake Decorating Tips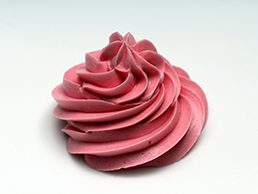 Create magical effects with just a few tips
With the help of the appropriate decorating tips and the compatible pastry bag, you can turn your baked goods into real eye-catchers. Our piping tips provide a plethora of opportunities that make garnishing cakes an incredibly creative and enjoyable task. So, when working with a round tip you can apply discreetly little dots of cream on top of your pie, a flower icing tip assists you in creating beautiful blossoms and a star tip allows you to develop fantastic radially-shaped ornaments. There are no limits to your imagination. Our high-quality cake decorating tips are perfectly suited for professional bakers and confectioners as well as for ambitious amateurs who are swinging their stirring spoons at home.
Regardless whether you'd like to apply traditional buttercream, white or dark chocolate, sweet ganache or icing – with the assistance of our decorating tubes you'll create stunning results with ease. Starting with tasty cookies to delicious fruit tarts up to formidable wedding cakes you can turn each sweet seduction into a fantastic masterpiece. By the way: Our tips also open up totally new possibilities for presenting hearty meals in an effective way. Why not serve homemade duchess potatoes to the juicy Sunday roast?
Using a pastry bag and decorating tips to decorate cakes or cookies

Depending on your individual preferences and what kind of sweet or hearty masses you'd like to use for your decorations, different pastry bags come into consideration. That's why we offer you a broad range of variants in diverse sizes and made of various materials. Our re-usable bags – made of cotton fabrics or synthetic fibers – make up an environmentally friendly choice if you are garnishing cakes and pies regularly. When you are adding a hot savory delicacy on a plate, our bags made of thermoplastic resin, make sure your fingers won't get burned. For processing your foodstuff in a particularly hygienic way, re-usable icing bags with an innovative silver ions coating come into consideration.
Pastry bags intended for single use provide a great option for hobby bakers, who rarely use these devices and therefore give great importance to hygiene. But also professionals often settle for these practical disposable items. In terms of usability they are in no way inferior to their re-usable equals, but they offer clear advantages with regard to preparatory works. So you can fill in your preliminary mixed masses into the bags and keep them closed with a clip in the fridge until they are needed. After your creative work is done – without any need for cleaning – the bags be disposed of easily.
Create different designs with cake decorating tips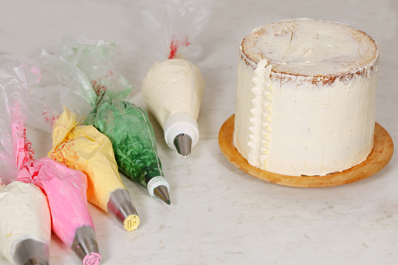 Before you start your decorative workings, your pastry bag needs to be equipped with a compatible piping tip. These versatile tools can be pushed from the inside through the bag and subsequently be applied at the end of the bag. When you'd like to switch between different shaped pipes, a plastic coupler turns out to be quite useful, because it allows you to change tips easily from the outside. If you are going to equip your kitchen with some selected utensils for decoration, our tip sets are exactly what you are looking for. They are available in various sizes and provide a great variety of different shaped pipes. So you are offered a broad spectrum of possibilities to create imaginative forms, creative patterns and artful designs.
---
Hole Tips
Round tips are universal tools to be used for embellishing baked goods with loving devotion. With a good deal of skill and finesse, you can not only use them to add personal dedications such as "Happy birthday", but also paint sweet images or precisely designed ornaments on top of your delicious pies. To create particularly magnificent decorations, our multi-opening icing tips come into use.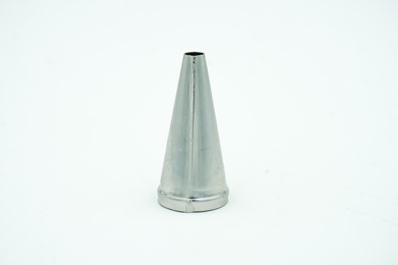 ---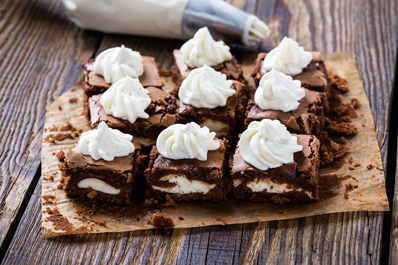 Star Tips
Would you like to add masterly shaped little crowns of cream to your cake or give it an affective framework made of tasteful icing? Then our star tips are the perfect choice. Their radial-shaped holes enable you to form elegant embellishments of various kinds. Additionally, they are also wonderfully suited for serving hearty dishes, such as mashed potatoes or vegetable puree, in an appetizing way.
---
Bismarck filling Tips
Custard or rather jam? When using our Bismarck filling tips it's up to you what kind of filling ends up in your doughnuts. The stainless steel outlet enables you to inject the filling of your choice in a very precise way, without leaving visible marks or damaging the gold-brown tasty delights. Also called "fritter piping tips", they are even ideally suited for filling croissants, dumplings or potato balls.
---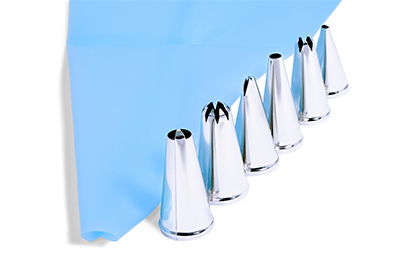 Special shape decorating Tips
For manufacturing outstanding sweet culinary dreams, we offer a wide repertoire of exceedingly fanciful tips that assist you in creating stunning shells, loving hearts, nice-looking arrows, perfectly shaped leaves or decorative waves and curves in various forms and sizes. Moreover, the variety of Russian piping tips will burst a sugary splendor of roses, tulips and magnolias into bloom on top of your pies.
Cake decorating tips: Cleaning guide
Creating delightful cakes, pastries and pies is a quite enjoyable task. Professional bakers as well as ambitious amateurs can draw from the full source of possibilities and end up creating unique and stunning designs that make any kind of baked goods a real feast for the eyes. To ensure the subsequent cleaning work won't spoil the fun, our decoration equipment is made to be cleaned easily.
While our disposable pastry bags can simply be thrown away when they are no longer required, our re-useable pastry bags can be cleaned by just rinsing them with hot water. For cleaning up your used stainless steel or plastic tips, a special cleaning brush for piping tips is the most suitable tool. It allows you to effectively brush off all leftovers in no time. A non-slipping plastic grasp and conically shaped nylon bristles make handling the cleaning brush quite comfortable.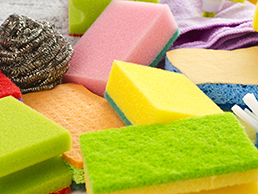 Topsellser